The Super Saturday Sale is Here, Affiliates! Promote up to 50% OFF Today Only at HancockFabrics.com!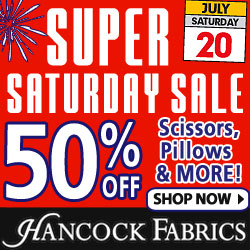 Happy Saturday! The weekend is here and what better way is there to celebrate than with a great sale at Hancock Fabrics?! 
TODAY ONLY, your viewers can enjoy big savings and up to 50% OFF scissors, batting, pillows, quilter's cotton and lots more when you promote the SUPER SATURDAY SALE on CJ or GAN. This sale is for one day only so please get your promo links posted on your websites and social media pages and promote this great sales event going on all day today at HancockFabrics.com.
To help drive traffic and increase commissions, be sure to share some of the FREE and wonderfully creative DIY projects posted on the Hancock Fabrics website like the adorable no-sew eyeglasses holder ! Great for teachers, sports fans, or anyone that uses glasses but doesn't wear them all the time!
Reminder: The DO THE MATH SALE ends tomorrow and the Back To School Sale is continuing until July 24th.
Please grab the text and banner ads from your CJ & GAN affiliate account to make the most of these terrific promotions from HancockFabrics.com.
*SUPER SATURDAY SALE* (JULY 20th ONLY)
Super Saturday Sale – Save up to 50% on Scissors, Batting, Pillows, Quilter's Cotton and much more at HancockFabrics.com. This sale is valid only on Saturday, July 20th.

*DO THE MATH SALE* (July 18TH – JULY 21st) 

Do The Math Sale – Get up to 50% OFF on Entire Stock Already reduced price plus much more at HancockFabrics.com! This sale is valid from July 18th to 21st.

*BACK TO SCHOOL SALE* (RUNS: JULY 5th – JULY 24th) 

Back To School Sale – Get up to 50% Off on Batiks, Tutti Frutti and Much More at HancockFabrics.com. This sale is valid from July 5th to 24th.
Evan is the CEO and Founder of Experience Advertising. He has more than 15 years experience and background with ecommerce website marketing. His skill sets include: search engine marketing, social media marketing, affiliate marketing, conversion rate optimization, and other traffic driving and community building strategies.
About Us
We are a full service digital marketing agency that delivers effective online marketing solutions.
Request a free quote
We offer professional agency management services that help websites increase traffic, sales and ROI.
Get Html Brian Tracy, renowned author and accomplished speaker, has addressed…