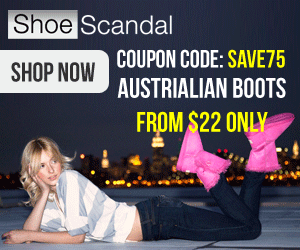 Hey Affiliates and Publishers! Here is the latest affiliate program news for our client: ShoeScandal.com on the Linkshare affiliate network!
Take advantage of our HUGE 75% OFF coupons and banners to reach out to your fashionable website visitors, Facebook friends, Facebook Fans, and Twitter followers in your social network! They will absolutely love the styles and savings! Example link:
Australian Winter Boots! This Season's Biggest Blowout Sale of 75% Discounts! $25 only! Original $100, Total Savings $75! Buy now! Use Code: SAVE75
Log into your Linkshare.com account to access all the banners and links!
Let me know if you have any questions at all about promoting the ShoeScandal.com affiliate program. I can assist with your online marketing strategies and provide a website analysis to help you get more website traffic. Just give me a call or drop me an email of you want to discuss! Have a wonderful week!