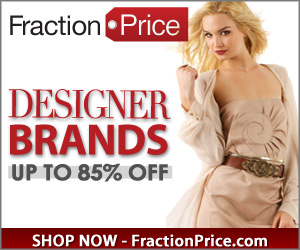 Hey Affiliates and Publishers! Here is the Affiliate Program News and Deals for our client: FractionPrice.com on Linkshare Affiliate Network! Thank you for participating in the FractionPrice.com Affiliate Program, the home of authentic fashion for a fraction of the regular price. We have some amazing deals for you to promote from designers like: Dolce & Gabbana, Glam Rock, and Chloe. These are some of the hottest designers and your visitors and subscribers will really love our super-low prices! So make sure to promote these deals on your site, blogs, newsletters, fan pages, and Tweets. Let me know if you need any assistance with how to drive more traffic to your website, I'm here to help!
Here are your new deals to promote
(expire 10/15/11):
Glam Rock Women's Crazy Sexy Cool Diamond White Silicone Watch for only $148.75
Chloe Cirse Fashion Sunglasses on sale for only $93.83
Dolce & Gabbana Women's BB Black Textured Dial Black Leather Watch for only $69.94
We also have these excellent deals for you (expire 9/23/11):
Coach Handbags up to 37% Off and take an extra $10 Off any Coupon Handbag + FREE Shipping by using Coupon Code: COACHTEN – Ends Sept. 23rd
Swatch Women's Irony White Crystal Rose Gold Dial White Rubber Watch for only $89.50 + Free Shipping
Marketing Strategy Articles: Here are some Online Marketing and Social Media Articles I wrote for your reading pleasure. Let me know what you think!
Let us know if you need anything at all to effectively promote the FractionPrice affiliate program. We look forward to hearing from you and working with you closely on the program. Have a wonderful weekend!