Great news Affiliates! iHome Audio has just introduced the NEW IBN6 WATERPROOF BLUETOOTH SPEAKER. QUANTITIES ARE EXTREMELY LIMITED so you will want to share this new product information with your visitors ASAP because it is on sale now for just $99.99!
The iHome iBN6 is a water proof portable Bluetooth wireless stereo speaker system with speakerphone that connects to a Bluetooth device for wireless audio playback. Near Field Communication (NFC) allows simple one-touch pairing for easy and instant music streaming. Rechargeable Lithium ion battery lets you enjoy your music anywhere. Includes Aux line-in (cable included) to listen to any audio source and USB charging port for charging portable devices.
Also remind your visitors that the iHome Outlet Section has a great selection of products available like AirPlay speakers, Bluetooth, radio, charging dock, portable, case, alarm, clock, colorful, boombox, speakerphone, headphone, water-resistant and much more for iPhone, iPod, iPad, MP3 players, Kindle and Android. Your visitors have until SUNDAY to take advantage of an additional 10% OFF the already discounted prices in the Outlet; but time is running out, so please advertise these great deals on your blogs and social sharing sites using the text links and banners created for you in CJ.

*IBN6 WATERPROOF BLUETOOTH SPEAKER*
The iBN6-QUANTITIES ARE EXTREMELY LIMITED but we wanted you to have the first opportunity to take one home. Item will be placed on sale to the general public on 8-28-14 at 12PM EST.
Get Html

*10% OFF OUTLET SPECIAL*
(OFFER ENDS AUGUST 31st)
Get additional 10% OFF the already discounted prices in the Outlet Section at iHomeAudio.com by using Coupon Code: OUTLET plus FREE shipping. This coupon is valid through August 31st.
Get Html

Outlet Section – Find discounted items up to 60% OFF only at iHomeAudio.com.
Get Html

*MORE QUICK LINKS* 
Top Selling iPhone/iPod Accessories & Devices at iHome!
Get Html
Rocking iPhone/iPod Devices for your Home, Office & More at iHome!
Get Html
iA5 App-Enhanced Alarm Clock Speaker System iPhone & iPod – Stay Connected Even While you Sleep!
Get Html
The Hottest iPhone/iPod Home Audio, Computer Speakers, Accessories & More
Get Html
Bluetooth Stereo System for iPad & iPhone in iHomeAudio.com
Get Html
Let your House Rock! iHome's iPod/iPhone Devices will Crank Your Music
Get Html
iP46-Featuring a built-in rechargeable battery, charging dock for iPhone or iPod and 4 speakers
Get Html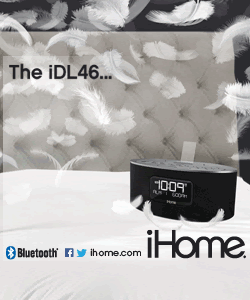 Get Html
*Additional banners are available in your CJ account. See Advertiser Detail