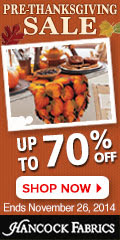 I hope you are all having a wonderful Labor Day Weekend! Be sure to share the 2 Day Labor Day Coupon with your viewers so they can enjoy an additional 15% OFF ENTIRE PURCHASE, today and tomorrow only at Hancock Fabrics!
Please post the current ad links on your blogs and social sites to get the word about this special Labor Day coupon offer:
*COUPON – 15% OFF ENTIRE PURCHASE* 
(SALE ENDS: SEPTEMBER 1st)
Two Day Labor Day Sale Plus Coupon – Take an additional 15% Off with entire purchase by using coupon code: AWNFT at HancockFabrics.com. Standard exclusions apply.
*5 DAY LABOR DAY SALE* 
(SALE ENDS: SEPTEMBER 1st)
Five Day Labor Day Sale – Savings on Cottons, Fleece and much more at HancockFabrics.com. This sale is valid through September 1st.
Get Html
*FLEECE OPEN HOUSE SALE* 
(SALE ENDS: SEPTEMBER 3rd)
Fleece Open House Sale – Save up to 60% Off and $4.99 per yard on Glacier Fleece Prints, Solids and much more at HancockFabrics.com. This sale is valid throughSeptember 3rd.
Get Html