Affiliates: We have a great offer you can share with your blog readers and social media contacts! NOW – JULY 2nd, your visitors can take advantage of the Brother ScanNCut REBATE and get a $20 Brother VISA Prepaid Card with the purchase of the ScanNCut CM250 machine.
The ScanNCut is the world's first home and hobby cutting machine with a built-in scanner. It's so easy! Perfect for sewers, quilters, DIY/crafters, mixed-media artists, scrapbookers and paper crafters. No design cartridges needed. No PC or software to learn. No more dies needed to cut paper and fabric. No more wasted materials. Best of all, it cuts fabric with ease! Have your visitors check out the ScanNCut YouTube Video to learn more about this fabulous machine, and be sure to grab the text link so you can advertise this special offer on all of your websites.
Quick reminder: The Summer Sale ends tomorrow so there's still time for your visitors to get 50% OFF lots of popular summer fabrics and more when they shop at HancockFabrics.com.
Here are the promo links for your to share:


*BROTHER SCANnCut REBATE* 
(SALE RUNS: NOW – JULY 2nd)
Brother ScanNCut Rebate – Get $20 Brother VISA Prepaid Card with purchase of the ScanNCut CM250 Machine at HancockFabrics.com. This rebate ends on July 2nd.
Get Html
*SUMMER SALE ENDS TOMORROW – JUNE 11th* 
Summer Sale – Save up to 50% Off on various summer fabrics and much more at HancockFabrics.com. This sale is valid through June 11th.
Get Html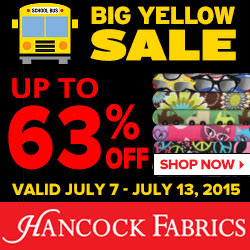 Get Html
*Additional banners are available in your CJ account: Advertiser Detail